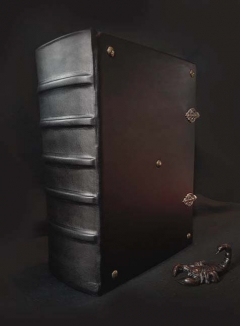 B O O K O F S H A D O W S


650 euros


A very large size Book of Shadows for personal rituals / notes / receipts / herbal formulaes / dream journals or other notes. The book is finished with decorative metal locking system made by a metal artisan and 5 decorative metal pins on the cover and 4 raised bands in the spine. Full leather binding, around 6cm thick book, cream shade paper, with two black silk bookmark ribbons. Most largest and deluxe of all journals offered thusfar.

Large page size: 15,5cm x 22,3cm.
Pre-order. Coming for sale end of February 2023.